I'm going to Ireland!!! I could not be more excited as this is my first time travelling and with my Irish roots, what better place to start? I always enjoyed learning about the Irish culture at school when I was growing up, and now I finally have an opportunity to witness it firsthand. I've booked my ticket and now I am simply counting down the days! After doing some research, I came across a company called Paddywagon. They look super fun and inviting for a young, solo traveller like myself. I am going to take a 2 day tour out to western Ireland with them to take in the rolling hills, leprechauns, and sheep galore! To be continued……
Well after a 6 hour flight and surprisingly delicious airline food, I have at last landed in Dublin. The city is much smaller than I expected, but still charming nonetheless. I have checked into Paddy's Palace, the hostel where the tour is going to depart from. Now I won't have to wander around tomorrow looking for the tour departure point because I will already be here. How handy is that?!
Day 1:
Top of the mornin' to ye! Hahaha My first day with Paddywagon was so much fun! It turns out there are a bunch of other solo travellers on my bus so now this trip is not so scary now that I have made some friends who are in the same boat as me. We hopped onto the bus and were greeted by a lovely man who was our bus driver AND guide. As we made our way out west, he told us jokes, stories, and myths about everything we were about to see that day! We made a couple of necessary stops for coffee and bathroom breaks, but then finally, we made it to Cong, a gorgeous little village. And when I learned that Pierce Brosnan got married there in Ashford Castle, I was sold! He was a smart man to choose it; Cong was quaint and magnificent, a hidden gem, with lakes, rivers, and of course, Cong Abbey. This was the perfect way to start our trip and I could not wait to get back onto that great big green bus to see what was in store for us next!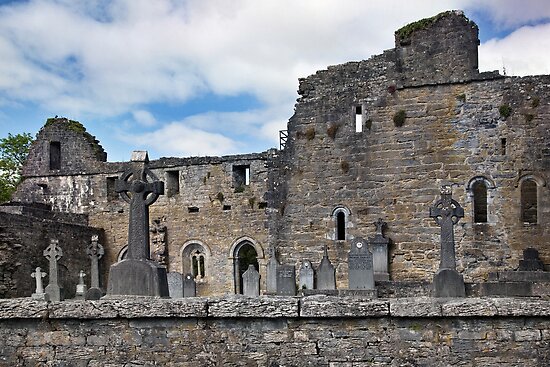 Our bus driver told us we were making our way to Galway, but in between we would get to gaze upon some of the most breathtaking scenery Ireland has to offer…he was not joking! The "Connemara wilderness" as described by our guide, surly shared with me some of the most exquisite and stunning landscapes I have ever been so fortunate to lay eyes on. Mountains, rivers, valleys, local fishermen, and course, the sheep! I knew I would see them, but I wasn't prepared for the myriad of them prancing about the gorgeous greenery. It was like riding through the pages of a fairy tale, and will certainly never forget it. As we made the journey onward, I was so delighted to know that I would soon see it again on our trek back to Dublin.
As we pulled into Galway, I knew there would be great fun in store, or "great craic" as we learned it. The streets were bustling with life! Everywhere you look, young people sipping coffee in the square, musicians sharing their talents with all those who pass by, and who could forget those delightful aromas! We were all seduced by the smell of good ol' Irish pub grub by an establishment nearby, so of course we all waltzed in to have a taste. Paired with the perfect pint, the evening was a success and I could not have asked for more on my first day out in the Irish countryside. I settled into the hostel with my new friends after a fantastic night out exploring the Galway streets and pubs. We stayed up most of the night talking about our favourite parts of the day. Day 2 sure had some big shoes to fill!
Day 2:
After a comfortable night's sleep and a hearty breakfast, the Paddywagon bus picked us up for our next adventure. We drove up and over the splendid Galway Bay with the most perfect view of the waters below. Of course I was no longer surprised by the beauty as day 1 so effortlessly showed me that no matter where I look, I will be encompassed by it. But I was still overcome with chills as each landscape became more ravishing than the last.
We stopped at Corcomroe Abbey, a delightful ruin that still echoes with stories. It was built in the 1200s by monks and I was amazed to see how much of it was still standing. Surrounded by the mountains in all their glory, there is no question why the monks chose this isolated location for their precious abbey.
Back on the bus we go to be dumfounded by the views of the coastline as we pull up to the Burren. Each striation in the limestone was a statement from nature, welcoming us to the only place in the world where Atlantic, Arctic, and Mediterranean flowers all grow together! The Burren was the perfect invitation as we drove further along to be greeted by the Baby Cliffs. The driver explained to us that if we were impressed by them, then we would not know what to do with ourselves once we made it to the famous Cliffs of Moher!
Before the grand climax of the Cliffs, we stopped in a cute little village called Doolin to enjoy a tasty lunch. The experience was amicably rewarding with traditional Irish charms all about, but of course not overshadowing the best part: the food. I had the best fish and chips of my life and I would give anything to go back, just to have one more bite!
As we left Doolin, I was squirming in my seat with anticipation of setting my eyes upon the Cliffs which I had heard so much about, hoping that they would stand up to their legend……. AND THEY DID! Words cannot describe the view of these massive, impressive, regal edges. It almost felt as though my eyes were deceiving me and I was staring into a painting of some sort. There are places in this world where nature truly astonishes us, and the Cliffs of Moher are certainly no exception. Leaving that place was definitely that hardest part of the whole day, constantly looking back as I walked to the bus to steal one final glimpse of the giants.
As we headed back to Dublin, we made one final stop at Bunratty Castle for some lovely photos. I sat at a nearby pub to enjoy a pint and reminisce about the events of the past two days. For my first trip alone, out in the big bad world, Ireland was absolutely the best choice I could have made. And the memories I have will stay with me always, all because of Paddywagon. When I first found them online, I thought I would just be bussed from one place to another to take a photo here and there, which I would have been fine with. But they went above and beyond to make this exploration of mine full of enterprise, and I could not be more grateful.